By: Rpf Gakwerere
The photo below was taken on Tuesday during The 74th session of the UN General Assembly (UNGA 74) which started on 17 September 2019.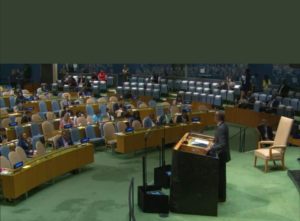 The potato enclave's brutal dictactor – Paul Kagame spoke to empty chairs. Obviously, no one in the right thinking capacity can come to listen to a bloodthirsty dictactor.
Recently an oppressed and enslaved Rwandan told me that, "the criminal ruler is strong;" and my humble question to this miserably oppressed and enslaved citizen was how? Brutality isn't strength, totalitarianism isn't strength, political criminality or human right atrocities isn't strength; but a sign of weakness on the side of the perpetrators. The brutal dictactor is weak and soon, he will be facing the law for his human right atrocities which cover decades.
Without forgetting, what Dictactor Paul Kagame's office released, it's an edited video/clip showing part of his speech and editing in the speech audiences that attended President Trump's speech at 74th session of the UN General Assembly (UNGA 74).