By: Rpf Gakwerere
On the night of 12th Nov 19, in a meeting at Village Urugwiro were criminal Paul Kagame met few of the newly appointed military officials of his personalised army – RDF, and the senior military officers who attended the meeting were Gen Jean Bosco Kazura the new Chief of defence staff, Brig Gen Ruki Karusisi a military novice who leads criminal Paul Kagame's special forces, Brig Gen Vincent Nyakarundi head of DMI now rebranded as Defence Intelligence, Maj Gen Joseph Nzabamwita – the head of National Intelligence and Security Service and assassin Brig Gen Dan Munyuza – the Inspector General of criminal Paul Kagame's brutal police force.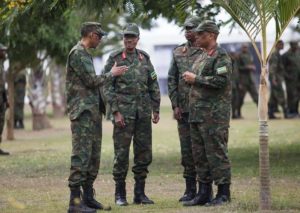 In this meeting, they discussed and assessed on issues of regime change in Burundi and Uganda. They discussed about their rebel proxies operating in DR Congo and they discussed the progress they have made in neutralising anti regime rebel movements in DR Congo.
However, a stressful and unhappy criminal Paul Kagame demanded for more blood, warning Brig Gen Vincent Nyakarundi against being lazy and useless like the person he replaced, Col Andrew Nyamvumba. Criminal Paul Kagame referred Col Andrew Nyamvumba as a useless man who wasted defence intelligence resources with no single results to show.
When criminal Paul Kagame talks about intelligence results, he means number of kidnappings, incarceration and assassinations. And Col Andrew Nyamvumba was cautious in regard to those human rights atrocities.
During this meeting, criminal Paul Kagame was unforgiving in his attacks against past intelligence and military officials, unfortunately these officers were not in this meeting to defend themselves against criminal Paul Kagame's slander. Criminal Paul Kagame referred to treacherous assassin Gen James Kabarebe as lying snake, noting "he doesn't have any single truth in him."
In the meeting, criminal Paul Kagame ordered the immediate crashing and annihilation of FLN (Force de Libération Nationale), criminal Paul Kagame told his house boy officers how FLN has crossed several red lines instructing to be destroyed from the top. "Wilson and Hamada have become nuisance, they have to pay the highest price before the end of the year," criminal Paul Kagame noted.
Gen Wilson Irategeka and Gen Hamada Habimana are chief of staff and overall operational commander of FLN (Force de Libération Nationale) respectively.
After criminal Paul Kagame's directives, during 12 Nov 19 meeting, Criminal Paul Kagame's special forces units based in South Kivu started moving to territories controlled by FLN (Force de Libération Nationale), in Kalehe, South Kivu in DR Congo. For the past weeks, we have witnessed blood path under scorched-earth military campaign where criminal Paul Kagame's special forces units are killing unarmed civilians in Kalehe, South Kivu in pretext of hunting FLN (Force de Libération Nationale) rebels.
Since Rwanda's military campaign started on 18th Nov 19, they are receiving high casualties in the battle theatre, you need to visit Kanombe military hospital, thus pouring their anger and frustration on unarmed civilians of South Kivu especially those in Kilehe. As I post this, battles still rages on, in Kalehe territory South Kivu in DR Congo.
—————————————————————————————————————————
N.B: you can follow me at – Robert Patrick Fati Gakwerere page (Facebook page), @RGakwerere (tweeter) or at my blog – rpfgakwerere.org.
However, for those in the enclave – Rwanda, the blog rpfgakwerere.org was blocked by the junta regime, it can't be accessed unless you are using a VPN.