By: Rpf Gakwerere
Dear oppressed and enslaved Rwandans, I stand in front of the alter with a bible in my right hand and say that things aren't good within the inner circle of the satanic regime ruling the potato enclave – Rwanda. We are writing in codes for a reason, but when the situation reaches at certain stage info will be shared. Cliques by senior military officers are starting to take shape as the information starts to filter on health conditions of the "supreme killer."
The military cliques taking shape
* Burundi – DR Congo born clique, known as the francophone boys under Gen Jean Bosco Kazura
* Toro – Bunyoro born clique under assassin Gen Dan Munyuza
* J3 mafia clique under Treacherous James Kabarebe
* The alliance clique, leaning to Gen Kayumba Nyamwasa, emerging to be the largest clique.
As Gaius Julius Ceasar used to say, "everything has its time, we just call for patience."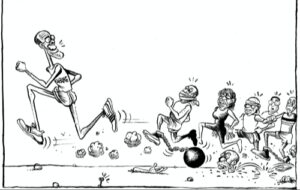 It is brain tumour, and young mother – Ange Kagame is in control of the presidency. Steam is slowly building, all high ranking military officers, including sidelined military officers and those in retirement are aware of contemporary situation…
1) The April 2020 secret trip to London
2) Two secret trips to Israel
3) Egypt talk is a diversion to those within the inner circle that they don't trust.
Remember, since march of this year, Paul Kagame disappeared and reappeared after a while, in doctored photos. From March to June, he was nowhere, only to appear in a three minute speech after Congolese bloggers had announced of his death, and he looked tired and weary.
We continue giving less info for a reason…