By: Rpf Gakwerere
Presidents in the greatlakes region have boycotted Kagame day in the enclave, what minions and goons refer as liberation day. All leaders in the region including the horn of Africa like Ethiopia ignored criminal Paul Kagame's invitation to attend the 25th anniversary of Kagame day.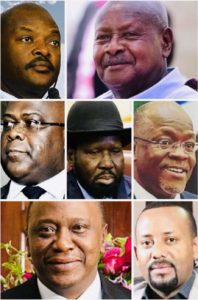 Each year, leading to Kagame day, the enclave is overwhelmed with different talk shows, debates, symposiums, seminars and conferences organised by the RPF political bureau, all aggrandizing criminal Paul Kagame as a super hero, some referring the criminal as a messiah while stooges label the 57 Kg skinny dictactor as Jesus's twin.
In these lies/bipindi that lead to this day, 4th July, Kagame day celebrations, they don't praise anyone except Criminal Paul Kagame. Speakers of these fabricated lies/bipindi don't tell their audiences that criminal Paul Kagame wasn't there when the RPF/RPA  in 1987, Muyenga, Kampala, Uganda. They don't tell their audiences that criminal Paul Kagame wasn't around when RPF/RPA invaded Rwanda. They don't tell their audiences that even when he came, most of the time he was in Kampala at double agent Kale Kayihura's house making babies with ripe Jeannette Kagame Gasana. 
These well selected speakers don't tell their audiences that if not in Kampala, criminal Paul Kagame was in Boma, Mbarara wanking his head off as boys were at the frontline. They don't tell their audiences that he used to appear at the war zone only to give assassination orders of those he suspected to be his challengers within the RPF/RPA organisation or for public relations appearances. When he knew that foreign journalists are to visit the war zone, criminal Paul Kagame would dash to the frontline for photo opportunity and for selling himself as the face of the rebellion – struggle. 
The various selected speakers intentionally avoid telling their audiences that in RPF/RPA difficult days, the war reorganisation, strategy and plan were being led by the late Major Reuben Ikondere who was then under the Second division and based in Kabale, Lt col Jackson Bell, Lt Col Anthony Kyakabale, Major Steven Ndugute..etc all reporting to Major Gen Salim Saleh. In these different presentations, from Maj gen Fred Rwigema et al., their contributions are/were erased as Criminal Paul Kagame is raised to a super man status.
As regional leaders boycotted the 25th Kagame day, below are few presidents from SADEC and west Africa who accepted criminal Paul Kagame's invitation.
1) President Archange Faustin Touadera of central Africa
2) President  Emmerson Mnangagwa of Zimbabwe
3) President Hage Geingob of Namibia.
4) President Faure Gnassingbe of Togo
5) President Julius Maada Bio of Sierra  leone
6) President Eric Masisi of Botswana.
7 Vice president Yemi Osibanjo of Nigeria.