By: Rpf Gakwerere
In his 14 years as Uganda's IGP and top security enforcer in the country, double agent Kale Kayihura referred very many young men from Uganda, especially Kisoro Uganda to join Rwanda's security apparatus. Double agent Kale Kayihura's reference was a straight guarantee into various military – police cadet courses within Rwanda's security apparatus.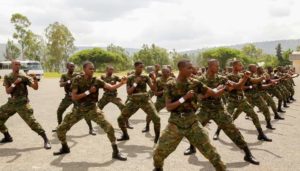 As Rwandans in Rwanda shied away from joining Pilato's militia army – RDF, the recruiters turned to diaspora recruiting any able person with a single Rwandan blood, thus double agent Kale Kayihura being one of the recruiter in Uganda, especially unemployed degree holders roaming around Kampala.
Between 2013 and 2016, Uganda became a fertile land for Rwanda's police and army conscripts. Most of these boys went through Cadet training, NCO training and civil intelligence training.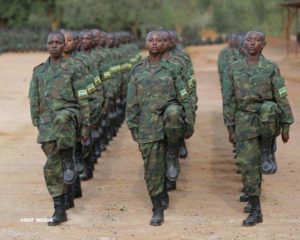 According to various crucial sources, those that joined in 2016, went through the normal routine of basic military training of 1 year, than sending all for cadet course since they were all graduates from various institution; RDF selectors, obviously with instructions from above, only sent those Rwandans with no connection to Uganda for cadet courses, while those boys from Uganda were sent for specialised military training.
They were transferred to Gabiro Combat Training Center for specialised training under instructions from private military instructors from North Korea. According to these sources, these boys went through small unit tactics courses, weapons systems, explosives training, advanced Reconnaissance, Communications Procedures – basic communications fundamentals such as basic radio theory, basic electricity, radio telephone procedures, signal-operating instructions, communication security, power applications, defense/Counterinsurgency, trained in target analysis/interdiction and mission planning..etc.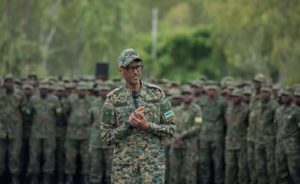 In 2018, after this training at Gabiro combat Training centre some of these boys were deployed in special force Brigade, others deployed in DMI, few where sent to different military schools and more than 35 sent to South Korea for advanced special force training; sniping and target elimination being a core objective of this training.
According to my reliable sources, those from South Korea returned back to Rwanda a week ago after a year of advanced military training. And these sources note that, these boys have all been deployed in DMI under external intelligence wing – Uganda desk. According to reliable sources, majority of these boys who have completed from this gruelling military course are from Kisoro region, in DMI, they are now being referred as Bafumbira boys.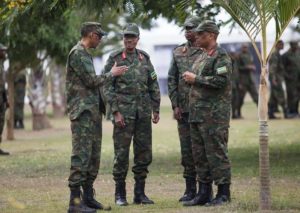 It's not by mistake that Pilato invested in training these boys from Uganda into deadly auto tuned killer machines. The best training was given to these boys with a view to Uganda's internal political dimensions.
Initially, Pilato was building a military system that would have backed his best friend, double agent Kale Kayihura. A force that had 100% internal stake in internal affairs of Uganda due to either ancestral connections, parental connections, birth connections or marital connections. Before the evil plan succeeding, fortunately, patriotic Ugandans moved in to crash double agent Kale Kayihura and his brutal network of assassins.
WHY HAS CRIMINAL PAUL KAGAME DEPLOYED ALL THESE BOYS IN DMI – EXTERNAL INTELLIGENCE WING – UGANDA DESK?