By: Rpf Gakwerere
For those who don't know, in Rwanda's security circles, J3 is and acronym of James Kabarebe, Jack Nziza and James Musoni alliance. This is an alliance made out of hell. I hope readers will not confuse G3 which is military acronym for training, operational requirements, combat development & tactical doctrine.
Apart from criminal Paul Kagame and treacherous assassin Gen James Kabarebe, Maj Gen Jack Nziza will also be talked by future generation in Rwanda for his intrigue, kidnappings, torture, brutality and assassinations without any single pity. One would rather meet satan himself than meet death merchant Jack Nziza. In 2017, the notorious house boy General was unceremoniously thrown out of the army, silently melted away now planning for a comeback under a J3 grand scheme led by treacherous assassin Gen James Kabarebe (watch the space).
Death merchant Maj Gen Jack Nziza was operation commander of J3, reporting to J3 supremo – treacherous assassin Gen James Kabarebe. On behalf of Gen James Kabarebe, not criminal Paul Kagame, Maj Gen Jack Nziza built an extended network of ruthless assassins across the globe mainly operating from Rwanda embassies across the world.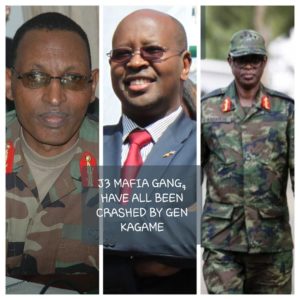 Death merchant Jack Nziza, through his direct boss – treacherous assassin Gen James Kabarebe fed their paranoia boss – criminal Paul Kagame fake intelligence information depending on their needs and reasons. These J3 founders knew criminal Paul Kagame's mental status, his paranoia and psychopathic behaviours. They managed intelligence information, deciding on which intelligence information to feed criminal Paul Kagame or not, depending on the grand interests of the J3 master plan.
The J3 grand plan of encroaching the presidency as natural replacement to criminal Paul Kagame started disintegrating with the appointment of Brig Gen Dan Munyuza to lead police's counter intelligence unit and deputy Inspector General of Police.
The arrival of Brig Gen Dan Munyuza after years of being sidelined due to information that J3 gangs had fed criminal Paul Kagame in regard to Brig Gen Dan Munyuza was a turning point against J3. This will be analysed more in part 2.
The J3 network was a government within a government, there network controlled the formal government which was under James Musoni as real prime minister as opposed to various prime ministers appointed by criminal Paul Kagame. They controlled the intelligence through death merchant Jack Nziza and they controlled the army through treacherous assassin Gen James Kabarebe. They controlled the police through the former IGP Emmanuel Gasana who is currently sidelined and dumped to become a governor of a poverty stricken area of the country. They controlled all the media under death merchant Jack Nziza. They controlled the judiciary through Umufumbira prof Sam Rugege who was invited to Rwanda by his Mufumbira relative Gen Jack Nziza to lead the Judiciary. In short, J3 ruled the country as criminal Paul Kagame was in his useless and endless world jettings. They controlled embassies especially 1st secretaries who report directly to DMI.
The J3 didn't stop there, they also controlled criminal Paul Kagame's bedroom. Jeannette Kagame Gasana was an integral part of the J3. Treacherous assassin Gen James Kabarebe knows the Kagame household verywell, he had risen from being along time trusted escort of criminal Paul Kagame to being the minister of defence with endless state power. Treacherous assassin Gen James Kabarebe knew how Jeannette Kagame Gasana was in abusive marriage. It's an open secret on how criminal Paul Kagame has always abused his estranged wife – Jeannette Kagame Gasana.
The J3 mafia gang decided to advice their criminal boss – criminal Paul Kagame to start involving the wife in frontline politics and public activities, thus the rise of Jeannette Kagame Gasana in 2009. And Jeannette Kagame Gasana turned James Kabarebe and Jack Nziza to be her handlers. She totally and totally confined her secrets to J3 gangs, as J3 consolidated everything except the chair – the presidency.
As J3 encroached the presidency, they destroyed anyone who didn't subscribe to their doctrine or didn't fit their grand plan. They destroyed lives without any single pity or remorse, for example criminal Paul Kagame's former blue eyed boy, Brig Gen Emmanuel Ndahiro, head of presidential guard – col Tom Byabagamba, Brig Gen Frank Rusagara, Assinapol Rwigara, criminal Paul Kagame's personal doctor – Dr Emmanuel Gasakure, Col Patrick Karegeya Dr Theogene Rudasingwa, Gen Kayumba Nyamwasa, Brig Dan Gapfizi, Gen Charles Kayonga, Gen Ceasar Kayizari, Dr Charles Murego…etc; the list is endless.
They fed paranoid ruler – criminal Paul Kagame fabricated information against anyone they suspected of being a hindrance to their great project. Naturally, criminal Paul Kagame is totally a lazy dictactor with no single capacity to analyse complex issues, especially fabricated intelligence underpinnings. His lazy solutions to any fabricated information brought to his attention by J3 mafia gang, it's either imprison or kill.
TO BE CONTINUED….
N.B: you can follow me at – Robert Patrick Fati Gakwerere page (Facebook page) or at my blog rpfgakwerere.org.
However for those in the enclave – Rwanda, the blog rpfgakwerere.org was blocked by the junta regime it can't be accessed unless you are using a VPN.