By: Rpf Gakwerere
On the 28th February 2019, Criminal Paul Kagame's media outlets splashed in their headlines "Rwanda's first satellite launched to provide broadband internet to schools in remote areas." Africans, and especially east African gullibles praised criminal Paul Kagame's public relations scam.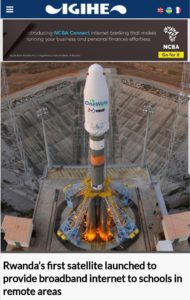 All social media handles operating in Criminal Paul Kagame's office, DMI ICT department, Police ICT department, RDB, NISS ICT department and all ministries; bombarded social media platforms with praises of how the potato enclave (Rwanda) has successfully launched its first telecommunication satellite to space.
Rwanda's minister of ICT, Paula Ingabire who doubles as Criminal Paul Kagame's side dish, noted on this day, "this is a great achievement our country has made since it is putting forth the use of ICT, we are blessed to have a visionary president. In Africa we lead others follow."
What criminal Paul Kagame and his inept state minions avoided to tell or mention to oppressed and enslaved Rwandans, was the financial cost of this scam partnership between OneWeb and criminal Paul Kagame, and how the potato enclave (Rwanda) was to raise the enormous funds needed for the mad man's white elephant project. The relationship between Paul Kagame and OneWeb owner, Gregory Thane Wyler started in 2004 during an investment meeting in London which was organized by Tony Blair who was then the British prime minister.
In 2004, when criminal Paul Kagame met Gregory Thane Wyler, the American tech entrepreneur was only known in Africa where he had been awarded different telecommunication projects by different African regimes. It was after making money in Africa that he launched O3b Networks Ltd in 2007 and one OneWeb in 2012.
On 26th March 2020, we dramatically witnessed the end of OneWeb – Rwanda satellite scam when OneWeb filed for bankruptcy at a New York bankruptcy court. OneWeb executives blamed the collapse of the Satellite network company on the Coronavirus pandemic.
Criminal Paul Kagame is one of the shareholders in One-Web, a business venture that he was encouraged to join by Tony Blair who was associated with OneWeb promotion drive to raise funds for the project.
By the time OneWeb filed for bankruptcy at a New York bankruptcy court, Criminal Paul Kagame had already spent more than $50 Millions from Rwanda Social Security funds and $20 Millions from Sofbank, in his mad man project.
In short, criminal Paul Kagame has wasted more than $70 Millions on sheer madness. Had OneWeb not filed for bankruptcy, the satellite project would have cost the potato enclave (Rwanda) more than $ 250 Millions, excluding annual maintenance and staff costs.
This is a man who runs a country like a personal property inherited from his parents. His a brutal killer who eliminates who ever questions his madness, he has surrounded himself with inept minions who clap for him at every corner of his madness. Criminal Paul Kagame is an incompetent political criminal who isn't fit to even be a manager of a chicken farm.