By: Rpf Gakwerere
In the photo below, RDF special forces boys who were sent to Minembwe, Fizi Territory in South Kivu, along side their trained and logistically sponsored Burundi rebel of Red Tabara, in their military trenches which were overun by Banyamulenge LDU boys of Gumino.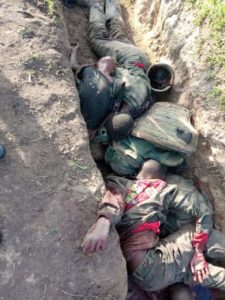 Currently there are four RDF brigades in DR Congo, in South Kivu 2 brigades and in north Kivu 2 brigades. In all, these are 16 battalions. According to RDF source, the battalions sent are mobile force battalions that are large numbering above 1000 people per battalion. In rough estimates, above 16000 RDF troops are already in DR Congo soil operating from South Kivu, North Kivu and Ituri regions.
Why does ruthless Pilato keep on sending these young men to die in senseless wars? Wars which are based on plundering DR Congo's resources for his own personal – family benefits!
You can't win a war without a cause, the Banyamulenge are defending their homeland, their culture and their ancestral heritage, this is why they have been defeating Pilato's special forces since last year to present, in the territories of Uvira – Fizi axis in South Kivu.
In the last two months, RDF and their logistically sponsored Burundi rebel – Red Tabara have been facing resistance and defeats in the hills of Uvira – Fizi territories.